Layyah History
    Layyah: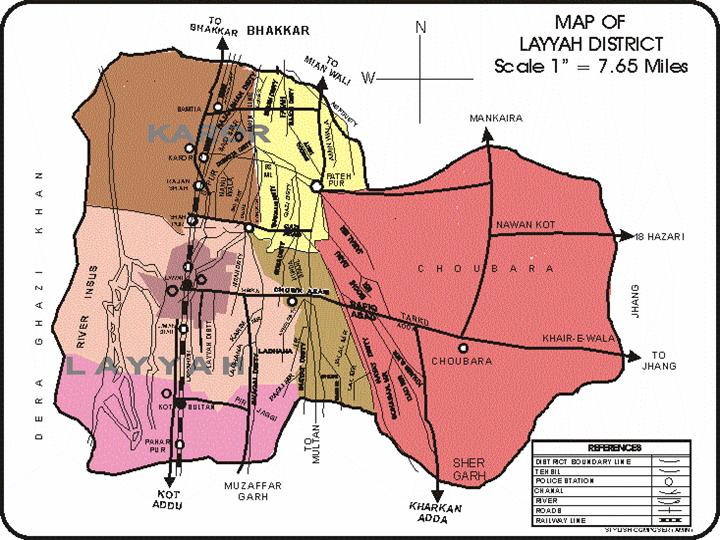 Layyah is situated at the south west of the district along the River Indus, the latter separating it from Dera Ghazi Khan District. Karor Tehsil is located just above the Layyah Tehsil along the right bank of the Indus and Chaubara is in the north west of this district and is the largest of all the three Tesils, covering most of the eastern half of the district area.There are three Municipal committees and one Town committee in the district. There are about 200 Patwar circles or land recording and revenue units. The number of Mauzas or the smallest revenue units in the district is about 730. Of the latter, only 26 have a population of above 5000 and about 53% of Mauzas have less than one thousand people while others have between one to two thousand people (District Census 1998-op.cit).  
Layyah
History1550-1902
The town was founded around 1550 by Kamal Khan, a Mirani Baloch and a descendant of the founder of Dera Ghazi Khan. Around 1610, the town was taken from the Mirani rulers by the Jaskani Balochs, who held it until 1787. Abdun Nabi Sarai was appointed governor by Timur Shah Durrani, but three years later it was included in the governorship of Muhammad Khan Sadozai, who transferred his seat of government to Mankera.In 1794, Humayun Shah, the rival claimant to the throne of Kabul, was captured near Leiah and brought into the town, where his eyes were put out by order of Zaman Shah. Under the Sikh government, the town once more became the centre of administration for the neighbouring tract, and on the British occupation in 1849, was for a time the headquarters of the District. In 1861 however, the District was broken up, and Leiah became a part of Dera Ismail Khan. But in 1901, was transferred to the new District of Mianwali. After partition, in Pakistan Layyah was become the part of District Muzzaffargarh and in 1983 it was again separated from district Muzzaffargarh and given the status of district with three tehsils (Layyah, Karor Lal Eisan and Chaubara). The, municipality was created in 1875. The population, according to the 1901 census was 7,546. The income during the ten years ending 1902-3 averaged Rs. 9,900, and the expenditure Rs. 10,100. In 1550, the income was Rs. 10,600, chiefly derived from octroi, and the expenditure was Rs. 10,600. The chief industry of Leiah at that time was the manufacture of blankets. The town contained a dispensary and a municipal Anglo-vernacular middle school
History of Layyah
Tags:
History Of Layyah
,
Layyah
,
Oldest Civilization Of The World
,
Geo News Programme Khabarnaak Layyah
,
Aftab Iqbal
,
Khabarnaak
Layyah
History1913–1992
According to historians of South Asia, Layyah and its surrounding areas were inhabited by one of the oldest Human settlers (Civilization) after ice age (15000 BC prehistoric man). According to Yahya Amjed  (Book:History of Pakistan  and Rashhed Akhtar Nadwi (1913–1992),
[3]
 the oldest tribes that settled in South Asia were Pattal and Manda  tribes. And these tribes settled around indus river just after ice age. Another tribe settled in and around Layyah is Mor مور tribe. This tribe finds its roots to Chandragupta Maurya – the Great King of India. Writers write that during the time of Chandragupta Maurya the town of Layyah was so established and well constructed that it housed connected homes at a stretch of 15 kilometers long.
Tehreek Pakistan Min LAYYAH K Awam Ka Kirdar
1. Layyah
Layyah District is a district in the Punjab, Pakistan
District Layyah (formerly spelled as Leiah) is bounded to the North by Bhakkar District, to East by Jhang District. River Indus flows to its Western side across which lies district D.G.Khan and to the South district Muzaffargarh.
It is located in the southern part of the province. The capital is Layyah. It is a very historical city.The word 'Leiah' itself is believed to be derived from 'Leian' in Saraiki language, a plural form of 'Lai' which is a name of bush. In former times, the land in Layyah (Leiah) was mostly covered by sand dunes with bushes (Leian). Therefore this place was known as 'Leian' which became 'Leiah' afterwards.Majority of people in Layyah are native speakers of Saraiki or Punjabi language, although Urdu is widely understood and spoken. The medium of education is Urdu and English. District Layyah (formerly spelled as Leiah) is bounded to the North by Bhakkar District, to East by Jhang District. River Indus flows to its Western side across which lies district D.G.Khan and to the South district Muzaffargarh. District Layyah has an area of 6291 square kilometers.
District Layyah has three sub-divisions or Tehsils:
1)      Layyah
2)      Karor Lal Esan
3)      Chaubara
Tehsil
Unions
Total Unions
Choubara
AULAKH THAL KALAN., CHOUBARA, JAMAL CHAPPRI., KHAIRAY WALA., NAWAN KOT., RAFIQUE ABAD., SHER-GARH.
7
Karor
BASEERA., CHAK 98/ML, FATEHPUR(KAROR), FATEHPUR-CITY., GARRAYWALA, KAROR CITY., KAROR THAL JANDI., NOSHERA THAL KALAN., SAHU-WALA., SAMTIA., SHAHPUR., SHOUKAT ABAD, TIBBI 90/ML, WARA SEHRAN.
14
Layyah
164-A/TDA, 172/TDA, BAIT WASAVA SHUMALI., BAKHRI AHMED KHAN., BASTI SHADU KHAN., CHOWK AZAM, CHOWK AZAM TOWN, JAKHAR, JAMAN SHAH., KOT SULTAN, KOTLA HAJI SHAH., LAYYAH THAL JANDI., LAYYAH THAL KALAN., LODHANA., LOHANCH NASHEB., MANDI TOWN., MIRHAN., PAHARPUR, SARISHTA THAL, TAIL INDUS., U/C LAYYAH-1., U/C LAYYAH-2., U/C LAYYAH-3.
23
Total Number of Tehsils = 3 and Total Unions = 44
2. Chaubara.
Choubara is in district layyah. It is also the tehsil of district layyah.Choubara is situated by the east of city Chowk Azam at the road of Lahore. It is also largest tehsil of district layyah Choubara has a great desert. There is a beautiful scene come to tehsil Choubara when we saw every where the unmeasured desert. We are happy to see these natural objects of God. It is situated near Angora form and has surrounded at an immeasurable desert. Choubara has its own customs culture, traditions and way of living of its people. But the people of Choubara desert are very hard working and courageous.
3. Karor Lal Esan
Karor Lal Esan is a city of Layyah District in the Punjab province of Pakistan. The city is the capital of Karor Tehsil and administrative subdivision of the district. It is located at 31°13'0N 70°57'0E with an altitude of 148 metres (488 feet). Its old name is Depal Pur. The city is partially named after a saint, Hazrat Lal Esan, who was the grandfather of the famous Bahudin Zakarya Multani. This city is located on the west coast of the famous Indus River. There is a popular festival, called Mela Chodhwein, held in Karor every year in September. This festival is celebrated in the memory of Hazrat Lal Esan. On this festival Qawalis are performed by some famous Qawals (singers) and some local singers. The fair showcases a number of events such as horse racing, tent pegging, camel fighting, bull fighting and racing, wrestling, kabaddi, dodda, and many others. There are few other tombs of saints in the city, e.g. Darbar Hazrat Rajan Shah (Sain Sudhey Bhag) Darbar Araf Shah, Darbar Shah Habib sb. and Darbar Shah Ashraf Sb. Khawja Ghulam Hassan Sewag Shareef's tomb is Near Karor Lal Esan. Many People go to His tomb Daily. Its population is above 95,000. The majority of the population are Saraiki speaking. In fact, Karor is a centre of Saraiki culture; although there is a growing population of Punjabis who have migrated from India.It is interesting to note that there is located the largest graveyard of Pakistan around the tomb in which are buried great Sofia and companions of Hazrat Lal Eason. it consist of many villages. Chak No 90 ML
Hazarat lal Eason History
The pride of Karor "Hazrat Muhammad Yusouf (ra)" known as Lal-e-Son was born in Multan in 16th century . His father's name was "Hazrat Akhar Bahauddin" who was very pious and perfect saint Hazrat Yufouf (ra) belonged to Quraish family of Banu Hashim and his family relations meet "Hazrat Bahauddin Zakriya Multani" in the 9th generation .He opened his eyes in pure religious and learning surrounding. He got his initial education from his father and learnt Quran Majeed by heart in his childhood.After that, he went to Baghdad for higher education where he studied Hadees , Fiqa , and the knowledge of that time .After completing his education , he went to Bait Ullah to offer Hajj . And also visited the Roza-e-Rasool (PBUH).Lal Eason Bardar Road ( Karor ) He got back to Multan . His brother Hazrat Sheikh Kabeer was handed over the state of Multan and he came to the birth place of his forefathers , The " Kot Karor " which at that time was known as " Deepal Pur " , to preach Islam . At that time , there was starvation in Karor .People asked him to pray for it . He said : Catch the fish in the river . People replied : Not to speak of fish ,nothing in the river . He prayed for them and there was a plenty of fish in the river. After this occasion, the people of Karor often used to sing this song : Here he started preaching Islam and many people embraced Islam. His piety was matchless . He recited the " Sura Muzammil " One Cror times at the bank of the river Sind and this incident caused " Deepal Pur " to be known as " Karor Lal-e-Son " .He was tall man , with fair complexion and long Beard . He belonged to the series of Qadria and never heard any song or music through out his life. He died in Karor at the age of 90 in the month of " Bhadoon " on 14 .(May his soul rest in peace) And his tomb is situated in Karor where thousands of people come to have a look at it with devotion.Two new sub Tehsils have been made on January 07, 2007 by Chaudhary Pervez Elahi (Chief Minister Punjab) which are as follows:Chowk AzamFatehpurChowk Azam  
Chowk Azam
Chowk Azam is a big Town of Ditrict layyah. The ex-Local government fully ignored its development. it,s Population near about 150000. Chowk Azam have a big ,,Mandi mavashian(Live stock markete) of Punjab.And also a great green markete of Punjab.There is a mini yadgar of pakistan in the center of chowk.every time traffic for every part of pakistan available.Karachi to Khaiber and Kashmir
Chowk Azam is the most famous city of Layyah District.Chowk Azam is the heart of Layyah and Thal(Desert). One of the biggest cattle market,Great number of schools where more than 10,000 students are studying getting always top position from D.G.Khan board is a plus point.
in 2009 population of Chowk Azam is estimated near about 200,000 . Chowk Azam is second biggest city of Layyah District .It has the second Minar-e-Pakistan and 70 percent of revenue of district Layyah is collected from Chowk Azam .
Fatehpur
Fateh Pur
Fateh Pur  a newly established (1980′s) but most developed city in District Layyah, got status as Sub-Tehsil (since January 7, 2007,) in Tehsil Karor (Laal Eason). It has a large population of approximately 1,300,000 people (estimated in July, 2009). Approximately more than 95% of total population consists of the migrants from
Fateh Pur ( Urdu فتح پور), a newly established (1980′s) but most developed city in District Layyah, got status as Sub-Tehsil (since January 7, 2007,) in Tehsil Karor (Laal Eason). It has a large population of approximately 1,300,000 people (estimated in July, 2009). Approximately more than 95% of total population consists of the migrants from Indian Punjab (1947) which settled in Fateh Pur after leaving central Punjab in 1970's and later. The city is famous for its well planned ifrastructure development, clean and broad roads and streets and civilized population. Due to brave people of the area, it is also called the residence of TIGERS of THAL.According to the recent survey (2009) of a local NGO "Regional Youth Development Organization" (RYDO), approximately 16,000 (12.322% of total Population) students of all ages and levels are studying in these schools and colleges. According to a survey made by a local student based NGO (Fateh Pur Science Council) in 2007, the literacy rate in urban and rural areas of Fateh Pur is approximately 79 percent and 53 percent respectively. Due to this very good literacy rate, the people in Fateh Pur are well educated, settled, organized and civilized.(The People of Fateh Pur & Region Demand a Medical Collage in this city because this city is located on ideal location & infrastructer / HighWay and no Medical Collage in between the Multan to Rawalpindi. This Area is Easy Accessable / Connected upto with Bhakkar, Jhang, Muzafargarh, Sargodha, Mianwali Districts )
KEHAIL LAYYAH , SINDH DERYA KE BETY……
 Source Links:
Layyah information on Wikipedia
Search Layyah on the Web
Watch videos of Layyah on youTube
Layyah District – Wikipedia, the free encyclopedia
en.wikipedia.org/wiki/
Layyah
_District  
Layyah - Wikipedia, the free encyclopedia
en.wikipedia.org/wiki/
Layyah
Welcome to Layyah|A Global Information Portal
www.
layyah
.com/
Layyah | Facebook
www.facebook.com/pages/Layyah/350755218208
Welcome To Layyah (لیہ)| Layyah Falcons
layyah
.info/
Layyah - Punjab Assembly
www.pap.gov.pk/index.php/members/bydistrict/en/19/61
City (town) Layyah: map, population, location
www.tiptopglobe.com/city?i=539&n=Layyah
Welcome To LAYYAH On Line
www.
layyah
.com/winner.htm
www.layyah.pk